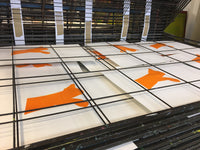 Every print is crafted with love
From the initial thought, stroke of the pen, conceptual sketch, digital manipulation and colour separation output. Each print is individually made using environmentally and forest friendly paper, material and ink, producing unique outcomes. 
Drawing with the same love we have for cats.
Location
ei8htycats
We're planning to be back at Markets and Shows again. In the meanwhile, the ei8htycats are still here for you!